Among the innumerable things we cook at home...Soba was on the menu during the weekend. I had an array of colourful veggies in the refrigerator and had a pack of these yummy Japanese noodles.
And, this yummy veggie delight had to happen.
Not only the Chinese cuisine, but the Japanese cuisine boasts of a decent spread of noodle recipes and varieties. Every variety I know of is made of
buck wheat
dough.
Know your noodle, the Japanese Style

Japanese noodles come in four forms, Ramen, Shirataki, Soba, Somen, and Udon


Ramen - The dough is kneaded with soda water to allow rising before the dough is pulled to form the noodle. Ramen is a thin noodle variety and is of Chinese origin. Ramen basically is a Japanese version (read corruption) of the name Chinese name"Jo mein" which translates to hand pulled noodles in Chinese. These noodles fluffy cos of the soda water and work well in soups. And this name has no connection to the brand Top Ramen...lol...

Then Japanese market has a wide variety of Ramen noodles, depending on the geographic location and the in Japan.

Image source: z.about.com
Ramen soups are categorized by flavors and are mainly of four kinds

shio ramen (salt flavored soup),
shoyu ramen (soy sauce flavored soup),
tonkotsu ramen (pork bone soup),
miso ramen (miso flavored soup).
Regular Ramen toppings include leek, seasoned bamboo shoots, dried seaweed such as Kombu, grilled pork, boiled egg etc.

Shirataki
- noodles with very low carbohydrates and calories made from a plant called
Konjac plant
. These noodles, also called Yam noodles, is wet packed and ready for use out of the packet. These noodles are said to have no bad carbs and are said to be a good form of starch in your diet.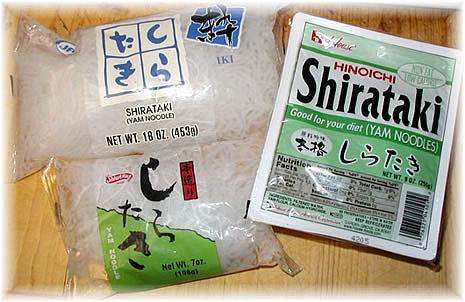 Image source: oriental-marketplace.com
I also remember seeing Tofu Shirataki noodle in the Asian market. And it is said that this noodle variety has been gaining popularity in the USA. These noodles are great in salads, soups, and even desserts!

Soba
- This is the noodle variety I bought home this time. They are medium sized, buckwheat-based noodles with uses in cold and hot recipes. These noodles are inexpensive and have been found to be served on local food stalls and road side cafe houses. Soba is quite starchy and tends to absorb flavours well.Ypu could have guessed this by the creamy texture of the bowl of Soba I made.
We find two major varieties of this noodle,
Sarashina soba: thin, light-colored soba, made with refined buckwheat
Inaka soba: "country soba", thick soba made with whole buckwheat
Types of dishes:
Cold Soba is served with a dipping sauce and is a summer favourite.Hot Soba soups are served in a broth and topped with vegetable of choice.
There are various varieties of Soba noodles based on regional preferences.Another very interesting fact about Soba is that in most regions of Japan, it is eaten during festive occasions and particularly on the New year's eve. As such Japanese are known for their extensive hospitality and as part of this culture, people welcome their new neighbors by giving out soba. Soba, when compared to pasta or bread, also scores high on content of amino acid.
Somen
- very thin, wheat-based noodles served cold with mildly flavoured dipping sauce and toppings. Although, winter calls for hot somen dishes (quite similar to ramen and Soba noodles)
Image source: wiki

It is better to cook these noodles in high heat (boiling is done similar to other pasta/noodle). Somen noodles work well in salads and stir fry.
Udon
- thick, wheat-based noodles varitey which is hand rolled. It is best when served hot with dipping sauce and toppings. Cold serving recipes also exist for this noodle...the possibilities are endless!
Hmm...all this food talk has rats running in my tummy...let me enjoy this bowl of yummy Soba stir fried with red cabbage, red and yello bell peppers, onions and carrots. Tempered with ginger and green chillies and vinegar. Ah! divine.